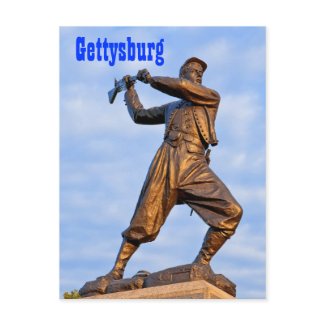 Gettysburg Statue IV Postcard
by
KenKPhoto
Create a
full color post card
on Zazzle
At the very center of the Gettysburg battle is the monument for the 72nd Pennsylvania Zouaves Brigade. As the statue implies, it was the scene of bitter fighting when the Rebel army made the Pickett's Charge of July 3, 1863.
Shot at sunset, you can see the golden light reflected off the bronze statue.
By the way, if this looks familiar, this is the statue on the obverse side of the new quarter for Pennsylvania.